Call us: (+91) 044-28113111

RESTAURANTS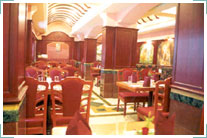 "VRINDAVAN" MULTI-CUISINE RESTAURANT
Our multi cuisine restaurant, it has the cozy and welcoming ambience of an typical south Indian culture depicted by krishna paintings, an ideal place to dine, meet, and entertain people. The menu which is specially tailor made to give you a combination of eternal favourites of the new and exciting. Being a multi cuisine restaurant we bring out all the varieties in vegetarian food.


"SOUTH INDIAN RESTAURANT"
Our restaurant serves you the authenticated mouth watering, real south indian dishes.. Our dishes are prepared as per the traditional home made recipes with utmost quality standard not compromising on any details. Experience the rich taste of all south indian recipes that have evolved over the centuries, and perfected by time, and practiced by our Chefs over decades, an art of mixing and blending spices.

"BANQUET HALLS & LAWNS"
For all the occasions, Marriage, Parties, Conference, and get together, our BQT halls, and open lawns are the ideal place to make it happen. Any type of party, any number of gathering we have a range of halls to suit your needs our vegetarian food is second to the none prepared through quality standards and served with devotion, by our well trained banqueting team. We make all the occasions a memorable one for decades. Please Contact our Banquet department for all your enquires and booking.